Hey, sometimes money is tight but you still have to get someone a gift. Does that mean that you have to bake them a kidney pie? Absolutely not! The truth is that there are quite a bit of great gift ideas that are just under $15 dollars. Whether you are frugal or just down on the green moola, here are some presents that are worth wrapping.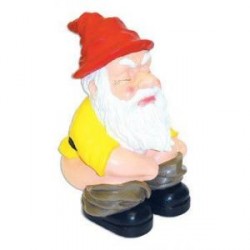 Squatting Garden Gnome
This garden gnome is the perfect addition to anyone's front or backyard. Add a laugh to someone's day when they walk by and see this gnome popping a squat in your flower bed.