Hey, sometimes money is tight but you still have to get someone a gift. Does that mean that you have to bake them a kidney pie? Absolutely not! The truth is that there are quite a bit of great gift ideas that are just under $15 dollars. Whether you are frugal or just down on the green moola, here are some presents that are worth wrapping.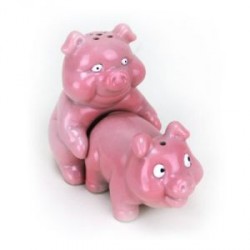 Naughty Pigs Salt and Pepper Shaker Set
These salt and pepper shakers are the perfect addition for anyone with a dirty sense of humor. You're sure to get some giggles the next time you have a dinner party and someone asks you to pass the salt and/or pepper.