My girlfriend loves surprising, thoughtful and fun gifts, but I'm all out of ideas. Do you have any suggestions for me, what should I get my girlfrined for her birthday?
What would surprise her mate? A pet tarantula. There. End of story.
But really, how come it is so difficult to get the perfect gift for your girlfriend? Maybe partially because they know what they want, won't tell us because they want us to know what they want without telling us. "This way it will be thoughtful" they say and so there you are staring at various useless overpriced sparkly things and wonder if she'll like it.
Well, why not do something unconventional this time? Why not get something funny, embarrassing, inappropriate or just plain damn stupid? Well chances are she will like it more than the usual boring gifts men get their women, so why not try?
Funny Gift Ideas For Her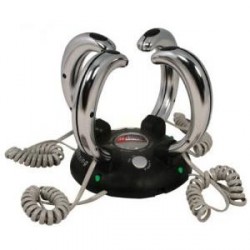 Lightning Reaction Electric Shock Game
Lightning Reaction Reloaded is a fantastic Russian roulette style electric shock game. Press the button and wait for the sound to stop and the trigger light to change from red to green. Just make sure you aren't the last to press your trigger or you'll get a shock!
Still not convinced?
How about something that's kitchen related then?
Because we know bitches like kitchens 🙂