Can you believe Christmas of 2015 is about to approach? Are you in search of Christmas present ideas for 2015? There are some awesome gifts out there, that are sure to impress and be that much better than the gifts last year. There are great Christmas present ideas for 2015, regardless of the type of gift you are trying to find. Perhaps, it's a gift specific to Christmas, a gadget, or something on the unique side that you are in search of for Christmas present ideas.
If you would like to give someone a gift that is specific to Christmas this year, then these two gifts are definitely in that category.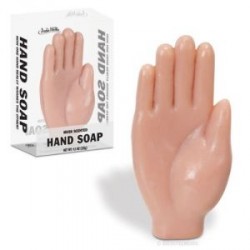 Hand Shaped Hand Soap
Treat your guests to a good, clean visual pun with this Hand Soap. Each 4-3/4 inch long, hand-shaped soap is sure to get a hearty chuckle or, at the very least, a mildly amused smirk. It's a perfect combination of silly and sanitary!