Secret Santa gift exchange will take place in many homes and offices across the world in 2015. Often the rules will say that everyone must stay within a certain budget, $20 being the most common one.
Whether it's for your family or coworkers, finding cheap but cute secret santa gifts should not be difficult. If you are going to be the Secret Santa this year and don't have time for the DIY project, here you can see some of the best secret santa gifts money can buy under 20 dollars.
Great Secret Santa Gifts Under $20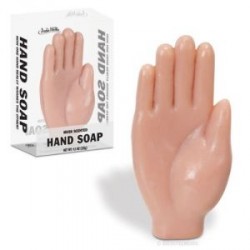 Hand Shaped Hand Soap
Treat your guests to a good, clean visual pun with this Hand Soap. Each 4-3/4 inch long, hand-shaped soap is sure to get a hearty chuckle or, at the very least, a mildly amused smirk. It's a perfect combination of silly and sanitary!