I'm trying to find my boyfriend an awesome gift but I want to surprise him and get him something unexpected and fun. Why is it so difficult to find men gifts? What can I get my boyfriend for his birthday?
Unexpected and fun ha? Have you tried the grapefruit technique? (Do Not Google It) I warned you. Although I must say it is a cheap and painful present worth a try.
Chances are your man is a jolly ol fella, and since a steak and a BJ is out of the question I will go ahead and asume that he likes unusual, fun and useful things. Am I right?
If that's the case, why not pick one of these gifts here that will make his tail wag like a puppy waiting for a treat!
He Will Like These Gifts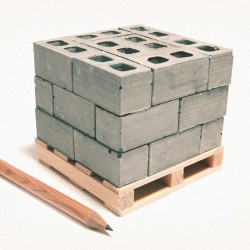 Mini Construction Materials
Mini Materials are wonderful for kids but they are even more fun for grownups. These would make a great office time waster. These great miniature materials for DIY building will have you switch careers to construction and architecture in no time.