Christmas shopping for family and friends can be fun but sometimes it can also be daunting depending on whether or not you know what to get someone and what they would like. But the great thing about Christmas gift shopping is that as long as the gift is unique and funny it will suit just about anyone.
Have a look at these:
33 Funny Christmas Gifts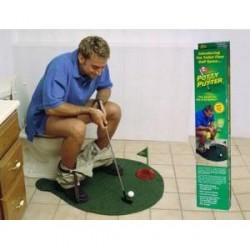 Toilet Mini-Golf
Fun way to pass time on the toilet. The perfect gift for those that find it boring to do their business. You'll have them jumping at the chance to take a poop.