Do you have this amazing boyfriend, or perhaps just average one, and want to give him a great gift for his birthday, Christmas or just cause. I have tons of great gift solutions that you never would have thought of. There's something for every type of personality and a wide variety of price ranges. Why not get something that the both of you will love? There's nothing better.
Do you and your boyfriend enjoy camping and the outdoors? Perhaps a gift that will spark a little romance. If this interests you then this will definitely be one of the best gift ideas for the both of you.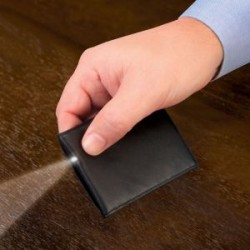 LED Flashlight Credit Card Holder
This is the credit card holder with a built-in LED flashlight. Ideal for illuminating keyholes or a menu, the LED is activated with a press of a countersunk button.