Are you strapped for cash and Christmas is fast approaching? Do you really want to get some awesome gifts for all your loved ones, but don't want to completely break the bank? There are definitely some cool and great cheap Christmas gifts that they will just love and don't look cheap, which is most important. You don't want to see a look of disappointment when your friend or family member unwraps you're gift and thinks "what a piece of garbage". These gifts will impress and keep you on budget.
Have a look here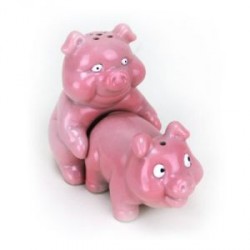 Naughty Pigs Salt and Pepper Shaker Set
These salt and pepper shakers are the perfect addition for anyone with a dirty sense of humor. You're sure to get some giggles the next time you have a dinner party and someone asks you to pass the salt and/or pepper.