It's the most wonderful time of the year! And you're stumped, yet again, as to what you should get the most important guy in your life, your Dad. Alright, so most of us struggle with the perfect gift for Dad, but struggle no longer! I have some great gift ideas for your Dad for this upcoming Christmas.
Is your Dad the type of guy that likes to take good physical care of himself? Then he'll definitely appreciate either of these gifts or why not both?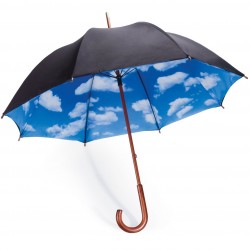 Sky Umbrella
Wouldn't it be nice to look up at a bright sky on a rainy day? Enjoy a beautiful sky with this umbrella, regardless of the gloomy weather.