Are you tired of getting those on your Christmas list the usual and boring Christmas gifts? Why not get them something cool instead? They'll definitely appreciate a cool Christmas gift. Think about it, would you like some boring pair of socks or pajamas or something cool? I'm sure the majority of you answered something cool, so here are some gift ideas that fall under the category of cool Christmas gifts.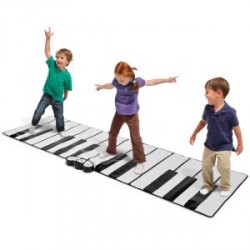 World's Largest Toe Tap Piano
Measuring 8′ long, this is the world's largest dance-on piano. The 28′ sq. piano mat allows budding virtuosos to compose their own music as they dance, jump, or run on the keys.