Do you really want to get your boyfriend something cute for his birthday or just any upcoming occasion, or perhaps just cause? Are you completely stumped at what a guy would consider to be cute or what you would even consider to be cute for him? Men are a little bit more complex, when it comes to buying them cute gifts and this is because the typical cute gift won't work for them.
Here are some cute gift ideas for your boyfriend, as I mentioned they are not the typical cute gifts, so try and think outside of the box to see the cuteness.
Okay, so many of us find animals to be cute, so my first suggestion is to base your gift around that. Here are two of my suggestions.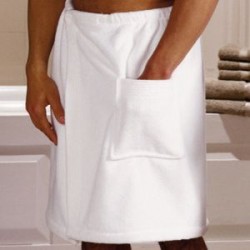 Turkish Shower Wrap (Men's)
While most towels come loose easily and must be constantly re-tied around the body, these wraps fasten securely with snaps, making them ideal for the home, sauna, spa, or gym.