Are you going to a party to be the Dirty Santa this year?. Is it going to be an office party with your coworkers that you love so much or friends and family, including some of the annoying ones?
It's expected that someone has set the rules for the exchange, so now you know how much you want to spend, but what does one bring to a party where the ideal gift must be funny, silly, GAG or simply inappropriate?
Well, here are some of the finest picks. Have a look at these Dirty Santa gifts and pick one that you like the most.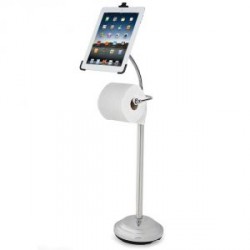 The iPad Commode Caddy
This is the bathroom stand that replaces a traditional basket of magazines by accommodating both an iPad and a roll of toilet paper. Keep yourself entertained while dropping the kids off at the pool.