Do you know someone who enjoys to receive funny birthday presents? Perhaps it's a friend, family member or mailman. Actually, wait, isn't that a little strange to buy your mailman a birthday present? Anyways, regardless of who you want to buy a funny birthday present for do you find that you're struggling to come up with the ultimate funny gift that will knock their socks off? Most of us do. My advice is to go with the gifts that are just blatantly funny and gifts you don't have to wonder if they actually will get a chuckle. You want the person to unwrap that present and just instantly see the humor in it.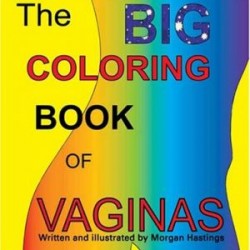 The Big Coloring Book of Vaginas
Here's an amazing book for your clueless boss that keeps hitting on you. It's also perfect for someone who loves coloring even though they are over 18.