Do you find it difficult to come up with funny gifts for your friends? No need to worry , you aren't alone. I have some friends, and I'm sure you do too, that appreciate a gift that brings them a good laugh. I personally find that that the secret to buying a funny gift for one of my friends is that the gift is not only funny, but is useful as well. Now sometimes, yes, it's fun to give a gift that really makes them ask themselves 'what were they thinking', but generally I like it save those for gag gifts.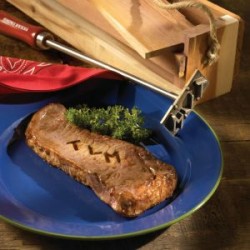 Monogrammed Barbecue Branding Iron
This branding iron sears up to three characters into food stuffs. It can be personalized with any three letters of the alphabet (including ampersand) which are laser cut and measure 3/4″ high.