Christmas is by far the most fun holiday there is, mainly because of the parties and gift exchanges like White Elephant. Christmas parties are something that people look forward to so much because everyone lets loose and really sets out to enjoy themselves. Work parties are particularly enjoyable because they create an atmosphere that helps you to forget that you are at work altogether. For people who are always high strung at work and find it very difficult for them to relax at all, these parties help them to finally be able to let their hair down and mellow out. I'm always surprised that it's these people, the normally up tight ones in the office, that really loosen up and enjoy themselves the most.
We started organizing white elephant gift exchanges a couple of years back in my office and seeing how much fun we have every year I decided that doing one with my family would be fun too. So this year, my office's white elephant gift exchange is going with the theme of gag gifts, I'm super excited and you should be too if you are joining a group for Christmas exchange. There's plenty of gifts to pick from here on WannaSpend!
Here are some cool Christmas party gift ideas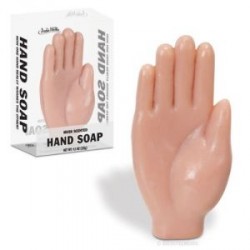 Hand Shaped Hand Soap
Treat your guests to a good, clean visual pun with this Hand Soap. Each 4-3/4 inch long, hand-shaped soap is sure to get a hearty chuckle or, at the very least, a mildly amused smirk. It's a perfect combination of silly and sanitary!