Christmas maybe over, but I still feel very much in the Christmas mood. I was hoping to get some fun gifts over the season, but nothing quite quenched my thirst, not that the gifts I got weren't incredibly thoughtful and for the most part very useful. Alas, nothing screamed Christmas to me when I opened it, what ever happened to giving a gift that fit into the theme of Christmas? I want to see Christmas colors of red, green and white, see Santa Clause, reindeer or candy cane designs on the gifts I open. I would've even appreciated a fun game to play, games aren't just for kids.
Christmas is a time to splurge and get things that you normally wouldn't, besides a time to spend with your loved ones. I can buy myself socks, underwear and any other boring piece of clothing, I want something fun and something that reminds me of Christmas. I don't want to struggle to remember when I got something, I should be able to look at it and say "I got that for Christmas", instead of struggling to remember just where it came from. I just want to find myself something great to get for an after Christmas gift.
Here are some of the best: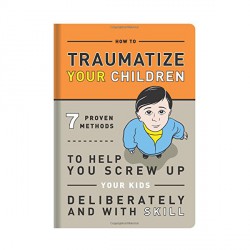 How to Traumatize Your Children
Have you ever wondered how kids come out so messed up? Wonder no longer! This guide book will teach you all the necessary skills to *uck up your children.