Did you know that there are a number of people who love celebrating Christmas in July? Refresh your memory of white elephant rules and join a July party because it's the second best thing after Christmas and it's perfect for the impatient people around the globe!
If you just can't get enough of Christmas and desire it to come more than once a year, like me, then your wish has come true. You can celebrate Christmas in July with all the other people who are like minded and just can't get enough of the joyous holiday. It may not be as popular to celebrate in July, but you can definitely have a blast.
Why not have Christmas in July? You can buy presents all year round and decorations, although not as plentiful, can be found all year round as well. There are so many different things on line now that it is extremely easy to find any of your needs and have them delivered right to your door step.
If you're looking for a fun summer time activity to do within your office, then dust off your office's fake tree and any other decorations and get a party organized. Everyone likes getting Christmas presents, no matter what the time, so while you're getting festivities organized think about putting together a gift exchange as well. The gifts can be different from those that would be given for Christmas in December because for Christmas in July you can do a summer theme for gifts.
Here are some gifts you might want to buy in July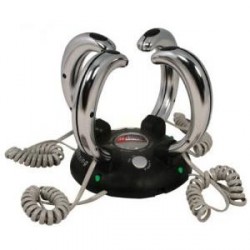 Lightning Reaction Electric Shock Game
Lightning Reaction Reloaded is a fantastic Russian roulette style electric shock game. Press the button and wait for the sound to stop and the trigger light to change from red to green. Just make sure you aren't the last to press your trigger or you'll get a shock!