I know Valentine's Day is supposed to be all about romantic and thoughtful gifts, but these types of gifts are really starting to get boring and lack luster. Don't get me wrong, chocolate and jewelry are great, but they're just such predictable gifts for Valentine's Day. This particular holiday is to show your loved one just how much you care and love them. What better way then with a gift that is different from the everyday and something that requires a bit more thought. Flowers are another popular gift and even though they do spell nice and are pretty, they end up dying and leave the recipient with nothing to remember the day.
Something different, funny, or completely unusual will leave your loved one with a lasting memory of that special gift they got from you. Unusual gifts are the same as homemade gifts because they differ from the ordinary and are memorable. Even if you don't have a special Valentine this year try giving your close friend's some special gifts that will show them just how much you care. Try giving an unusual gift for Valentine's Day this year and see just how much your loved one's will adore their gifts.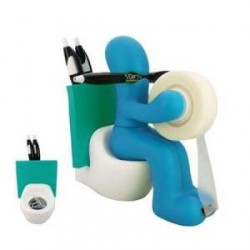 The Butt Office Supply Holder
Wanna give someone in your office a little something? Then look no further! This desk accessory holds pens, tape, and paper clips and does it in an interesting way.