Am I the only one that finds it difficult to come up with unique gift ideas when the time comes around to buy gifts? I'm pretty certain I'm not. Every time one of my friend's birthdays comes around I always say to myself that I want to get her something that is completely cool and unique. I'm sick of going with the obvious, which for me is usually a purse or a bottle of perfume. I know, neither of those are very unique gifts.
Every time I give a not so unique gift I always say to myself next time I'll do better, or even worse, I see another gift my friend got and am left thinking what a cool gift they found and wish I had found it first. Maybe some people are just completely in tune with what people would like as gifts and I'm just stuck with buying the boring, predictable gifts.
No, this is not the case! I am capable of getting those unique gifts that everyone else wishes that they had found.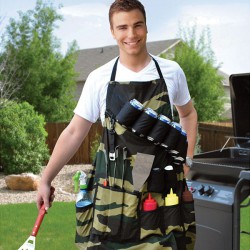 Grill Sergeant Apron
A left described Grill Sergeant will love this apron. With a strap for ammunition to hold beers and pockets for condiments he'll be ready to grill!