I'm drawing a complete blank as to what I should get my boyfriend for his birthday. Do you have any suggestions for the best birthday ideas for my boyfriend?
Yes, I definitely do have some gift suggestions that your boyfriend will love to receive for his birthday. When it's time for you to get your boyfriend the best possible gift for his birthday try to think of some of his interests. Does your boyfriend have an interest in science fiction movies? If he does then I have a couple of gifts that he will like.
Here's for the guy who enjoys science fiction movies.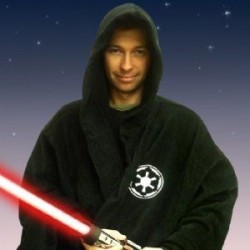 Star Wars Sith Bathrobe
The Star Wars Sith Bath Robe and the Star Wars Bath Robe are two definite must haves for our Star Wars fans. These robes will not only remind him of his all time favorite sci-fi movie, but will also keep him toasty warm. If you've noticed that your boyfriend is in need of a new watch and he likes cool looking gadgets, then he will surely enjoy receiving this LED Matrix Watch .
Other questions you may find interesting:
If your boyfriend is not all that into science fictions flicks, perhaps he's more of an outdoorsy kind of guy. If he's the kind of guy who enjoys to relax in the pool and soak up some rays, then you should definitely consider this to be the best birthday gift to give your boyfriend.
This Bean Bag Pool Float will have everyone at the pool envying your boyfriend. It is a super fun and cool way to relax while floating around. You may need to buy two when you see how great this gift is, you will definitely want to join him.
Maybe your boyfriend isn't really much of a movie buff and perhaps he enjoys to spend time outside but enjoys spending his time differently, rather than relaxing poolside. If this is the case then check this out.
This Gutter Cleaning Robot is the perfect gift for a guy who likes to get chores around the house done without having to hire someone to do them for him. Your boyfriend can be somewhat hands on with cleaning the gutters, by climbing the ladder and placing the Gutter Cleaning Robot in, but can avoid having to do all the work on his own. He will definitely be thanking you for this nifty gadget.
If none of the aforementioned gifts seem to be speaking to you then how about something cool for the inside of his home?
Who wouldn't love this Tropical Aquarium Coffee Table ? I honestly can't think of one person that I couldn't give this coffee table to and not have them just absolutely love it. It will be the showpiece of the entire room, if not his entire house.
Now, if for some strange reason you don't think your boyfriend would like the Tropical Aquarium Coffee Table , then I have a gift that I am sure just about any guy would appreciate having. Take a look at this.
The Toilet Seat Lifter will make your boyfriends trip to the washroom that much simpler and who doesn't appreciate simplicity? Nobody!