My husbands birthday is coming up soon and I have no idea what to get him. Do you have any suggestions what to get the man who has everything?
There's always things to get a man that you think has everything. There's actually always something to get anybody you suspect has everything. In fact, those types of people are that much more fun to shop for because they give you the opportunity to think outside of the box. Your perception that your husband has everything will actually allow you to get him something incredibly cool because you feel as though you must work that much harder to get him something that he  doesn't already have for his birthday.
So, what exactly do you get for the man who has everything? Here are some ideas: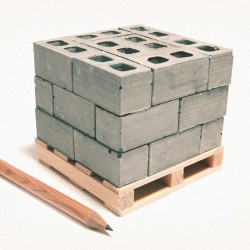 Mini Construction Materials
Mini Materials are wonderful for kids but they are even more fun for grownups. These would make a great office time waster. These great miniature materials for DIY building will have you switch careers to construction and architecture in no time.