I'm so tired of getting lame gifts for my birthday. There are tons of cool gadgets out there and I never seem to get any of them. I'm wondering what awesome gifts I should get for my birthday?
That's a difficult thing to figure out, isn't it? Now I've had my fair share of birthdays, I prefer not to disclose how many as I do have a young image to maintain. I myself ponder the exact same question every year and am surprised every year just how many cool gift ideas there are to get. Yes, people's interests are different but what I've learned over the years is that they are an abundance of cool gifts no matter what you're into.
Here are 50 cool gift ideas for you: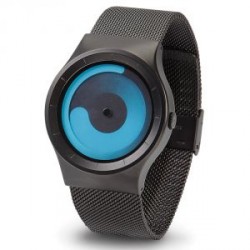 Orbiting Rings Watch
This is the watch that displays the time with two orbiting rings. Without an hour, minute, or second hand and devoid of a numerical dial, two concentric rings create an ever-changing pattern of contrasting gradient color as time progresses.