If you are looking for Yankee Swap gift ideas, you've come to the right place. Whether you're going to the office party or chilling with friends and family for good holiday fun, you want to select the best Yankee swap gifts for the annual exchange and stay in the budget if the organizer announced it in the rules.
Regardless of the budget, you want to pick something that will be unique, interesting and even funny. Here we have selected some of the most appropriate Yankee Swap gift ideas for you to explore:
Check Out These Yankee Swap Gifts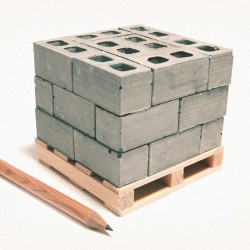 Mini Construction Materials
Mini Materials are wonderful for kids but they are even more fun for grownups. These would make a great office time waster. These great miniature materials for DIY building will have you switch careers to construction and architecture in no time.